If you are looking for brilliantly illuminated printed graphics, there are a couple options. It is important to achieve the most dramatic results by printing on special media that is intended for backlit applications. Also, the light box needs to evenly distribute the right amount of light behind the image, in order to avoid what is called "hot spots" or areas in the graphic that appear to be brighter or darker than the rest of the graphic. Recently, 40 VISUALS came out with an article on their blog that compares their traditional snap frame light boxes to the increasingly popular SEG (Silicone Edge Graphic) Fabric Light Boxes.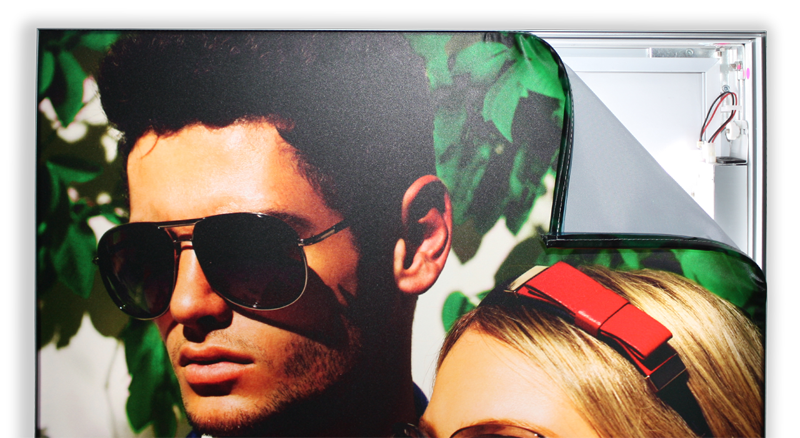 Duratrans Transparency Film applied into a Snap Frame LED Light Box is the traditional option for backlit signage. 40 VISUALS' thin and sleek Ultra Thin LED Light Box packs a lot of light for such a slim profile, being a mere 1" deep. The Snap Frame System provides a simple removal and installation of any Duratrans Transparency. All four aluminum extrusions snap open and shut tightly onto the graphic, securing it in place.  The revolutionary new light diffusion method that is incorporated in the Ultra Thin LED Light Box allows bright LED light to evenly disperse across the surface of the light box, this completely eliminates any chance of "hot spots" mentioned earlier.
The other option is the Silicone Edge Fabric Graphic (SEG) Light Box.  The size economy of the SEG Fabric LED Light Boxes and graphics make this a cost effective option, without sacrificing size or quality.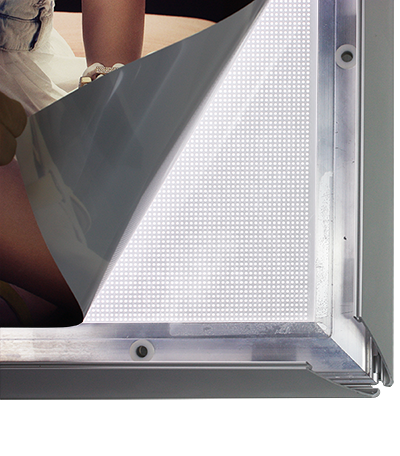 The Fabric Light Box Frame can be wall-mounted, suspended from the ceiling, or the free-standing option. SEG Fabric graphics are installed the same way for both backlit fabric and frontlit. They get inserted into the light box/frame using a thin silicone strip that is sewn around the edge of the graphic, giving it a "frameless or edgeless" appearance. The silicone strip fits neatly into a small channel around the perimeter of the aluminum frame extrusion and the result is a drum tight fabric graphic that is lit evenly. The Frameless Fabric LED Light Boxes and frontlit frames can be ordered in a single or double-sided option.
Printed graphics are only as good as the hardware that houses them. Both the Ultra Thin LED Panel and Frameless Fabric Light Box are immensely popular options for illuminated backlit signage displays. Due to this, it can be difficult to choose which light box is best for you. The SEG Fabric Light Box is our choice, what's yours?